Why should you join Derby Market Hall?

Financial
Low risk – our model works on charging only fair flexible rent.
Short-term and flexible rental agreements available - we can provide newbies or would be makers with a small, manageable, flexible workspace to create, make and display and sell.
Incentives and induction packages to support your business development.
Audience
High footfall – Derby Market Hall is located in the prime shopping area in the city.
Affluent catchment - including families, thanks to Derby's high tech manufacturing industries and competitive wages.
Wide reach - our target audience is broad. This is an opportunity to get your brand seen by new audiences.
Connect with local community / customers - A chance to spread awareness of your brand, gain exposure to a new audience, and a place to regularly meet, build relationships and loyalty to your customers.
Brand
Positioning - benefit from association with like-minded brands - including household names, cult favourites and exciting, innovative new kids on the block.
Promotion that packs a punch - the launch will be supported with a significant PR and marketing push. Ongoing social media and marketing promotion across our channels and potential PR opportunities. DMH and our partners have a combined average weekly digital reach of 85k.
Profile – retain your own brand identity whilst having your story told as part of something bigger
Added Value
A new community of purposeful businesses – be part of a community and network of like-minded brands and other small business owners. A networking opportunity to mix with other traders, pick up tips and develop future relationships!
Learn and share together - incubator business hub and support.
Be part of something genuinely new and even more so, part of the solution to revitalised Derby city centre
It'll be fun!
Trading Opportunities & Options
Starting a business at Derby Market Hall couldn't be easier...
The market will offer a range of permanent and pop-up trading opportunities for the experienced trader to the start-up who wants to try out an idea.
Flexible and affordable rates - meaning you're not tied to lengthy leases.
Permanent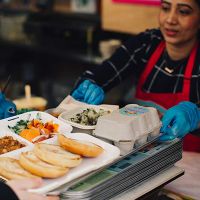 Street food court - food and beverage units designed for hot food prep and service
Fresh food stalls - mid-mall stalls dedicated to fresh food products
Market hall stall - units for a variety of product and non-perishable produce located around the inner perimeter of the market hall
Make and trade space - shared and private workspace with a shop window aimed at designer makers
Pop-up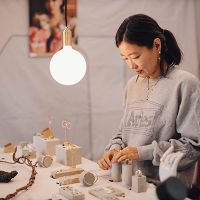 A varied range of specialist pop-up events and activities.
No need to commit to a lease, a large amount of stock or even providing staff.
We provide the infrastructure, so you just need to turn up, set up and you're off. Just take a rail or a table, fill it with fantastic products and away you go.
Seven good reasons to trade at Derby Market Hall
01_Central and well-connected
Located in the heart of the city, Derby's Market Hall position ensures easy access and a constant flow of visitors. It is easy to reach by train, bus, car, cycle, and foot.
02_Derby city centre dominates its catchment
Derby has a large catchment with 6 million people within an hour's travelling time. Since 2018, the city has doubled its market share, winning more visits from the area between Derby and Nottingham.
03_Hassle-free, low-risk trading
Flexible and affordable rates - meaning you're not tied to lengthy leases - makes trading at Derby Market Hall a low-risk venture.
04_Added value
We can offer incentives, rent-free induction packages, mentoring and support to help your business grow and develop, as well as all the benefits of an established retail environment with on-site support.
05_Be part of something genuinely new
The transformed Market Hall will bring together the best of the region's independents under one impressive cast iron and glass barrel-vaulted roof. It is the only covered market of its type in the East Midlands.
06_Derby attracts a more affluent visitor
Average Derby salaries are £3,000 p/a above the national average, thanks to Derby's high-tech manufacturing industries. 'Affluent Achievers' account for 19% of the city centre visitor profile.
07_Promotion that packs a punch
The launch will be supported with a significant PR and marketing campaign, continuing and developing after opening. Derby Market Hall and partners already have a combined average weekly digital reach of 85k.