Derby Market Hall gets ready for business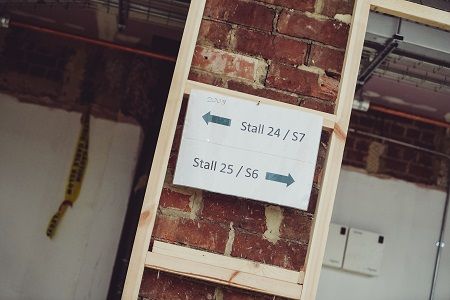 Thu 26 Oct 2023
Derby's Market Hall has moved a step closer to completion, with the search for creatives, makers and traders beginning.
Businesses throughout the region are being invited to register their interest in operating from the refurbished Market Hall, which will bring together the best of the region's independent shopping, eating, drinking and entertainment when it reopens in Spring 2025.
A series of events is planned for a wide variety of potential businesses to outline the opportunities. Over 120 businesses attended the first event on Mon 23 Oct. 'Creative Placemaking: Derby' examined how culture and creativity can be key drivers for the city's transformation and growth.
Councillor Nadine Peatfield, Cabinet Member for City Centre, Regeneration, Culture and Tourism at Derby City Council said:
"In our 2023 manifesto we pledged to ensure that Derby Market Hall was the right space for Derby businesses and visitors alike. In May, I did just that. We brought in Hemingway Design and other experts in modern markets of the future to help us reflect, re-assess and make sure the offer was not only the right thing for Derby but a successful offer for such a prestigious venue that we have waited so long for.

It's not surprising that so many businesses are interested in this exciting new chapter of Derby's Market Hall. This is a fantastic opportunity for both established and up and coming businesses to be part of a modern central hub while benefiting from Derby's rich history and heritage.

We aren't just looking for traditional market traders. When it reopens, the Market Hall will offer permanent and pop-up trading opportunities for a variety of businesses – makers, traders, start-ups, creatives, and more! We want to hear from as many people as possible, from the experienced trader to the start-up who wants to try out an idea.
The transformed market will offer:
• A carefully curated mix of traditional and themed stalls, including quality fresh produce
• Make and trade stalls and creative space
• A cosmopolitan food court and bars
• Co-working space
• Events and pop-up activity
Derby City Council has appointed design consultancy Hemingway Design to help bring alive the ambition to create a building that will be a hub for creatives, makers and traders, building on the city's heritage of innovation and industry.
Wayne Hemingway, Partner at Hemingway Design said:
This is an opportunity for forward-thinking independent start-ups and existing businesses to be part of a project and creative community that will operate out of this magnificently restored, historic Derby building and play a role in re-energising this part of Derby's city centre.

The aim for the incoming Derby Market Hall business community is to be a low-risk venture, with affordable and flexible rates and a range of mentoring and support to help businesses grow and develop.
Located at the heart of the city centre, linking Derbion and St Peter's Quarter to the Cathedral Quarter and Becketwell, Derby Market Hall will play a key role in widening the diversity of the city centre economy.
Councillor Peatfield added;
A vibrant city centre is a key part of Council strategy to drive confidence and investment in the city. The ambition is for Derby to become a place where more people actively enjoy a wider cultural choice, and we know that's what people want from their city centre.
In summer 2022, the Council published an Ambition document that formed the basis of conversations with Derby residents, businesses and stakeholders about what they want Derby to be in the future.
The transformed Derby Market Hall is a central part of this vision – together with other significant projects such as the 3,500 Becketwell Performance Venue, the new build to rent apartments in the Condor Building, and the development of Castleward and the Nightingale Quarter.
Councillor Peatfield said:
The Market Hall is one of our most historic and prominent buildings. Our vision is to deliver a place where people want to visit and spend time, rather than pass through. We want Derby to be 'the place to be' destination, attracting visitors from nearby towns and cities. 
The £35.1m project is partly funded with £9.43m from the Government's Future High Streets Funding (FHSF) and the transformed Market Hall will generate £3.64m for the local economy each year.
Work is already underway on the Victorian building to turn it into an attractive retail and leisure destination fit for the future.
The extensive structural restoration of the Market Hall's cast iron, copper and glass roof was finished in August 2022 and needed a scaffolding structure weighing more than eight blue whales to complete the works. Featuring an impressive cast iron and glass barrel-vaulted roof, this will be the only covered market of its type in the East Midlands.
The second phase of the transformation, now underway, focuses on refurbishing the interior and developing the public space outside at Osnabruck Square.
This work includes re-instating the original two entrances and installing a grand central staircase. The old stalls have been removed to reveal a huge open plan space on the ground floor.
A new frontage will incorporate full length windows overlooking Osnabruck Square to open up the area inside and outside the building, with the scheme set for completion in Spring 2025
Register your interest in Derby Market Hall